Buggy Jolly Roger Flag for sale (Buggy Pirate flag)
This flag is a great way to add color and style to any room. it can be used as a photo booth backdrop, wall decoration, or even as a gift for your family and friends.
Professional: Our One Piece flags are made of high-quality polyester material, which is durable and can be used for a long time.
Flags & Banners Material: Polyester
Fabric: Polyester
Type: PRINTED
Item name: Buggy flag
Shape: Any Shape or Customized
Style: Anime
Item Type: Hanging flying
Usage: Decoration
What does Buggy Pirates's Jolly Roger mean?
"The crew's Jolly Roger features the standard comic-style skull-and-crossbones, modified with a large red nose and black "makeup" crosses on the eye sockets—both reflecting Buggy's personal motif. Following the timeskip, a new version of the Jolly Roger is seen on Buggy's hat. This version has been updated, with the eyes of the skull now featuring smaller crossbones covering them, which mirror Buggy's face paint. The nose is also significantly smaller, likely a result of Buggy's own insecurities about its size." Via: One Piece Fandom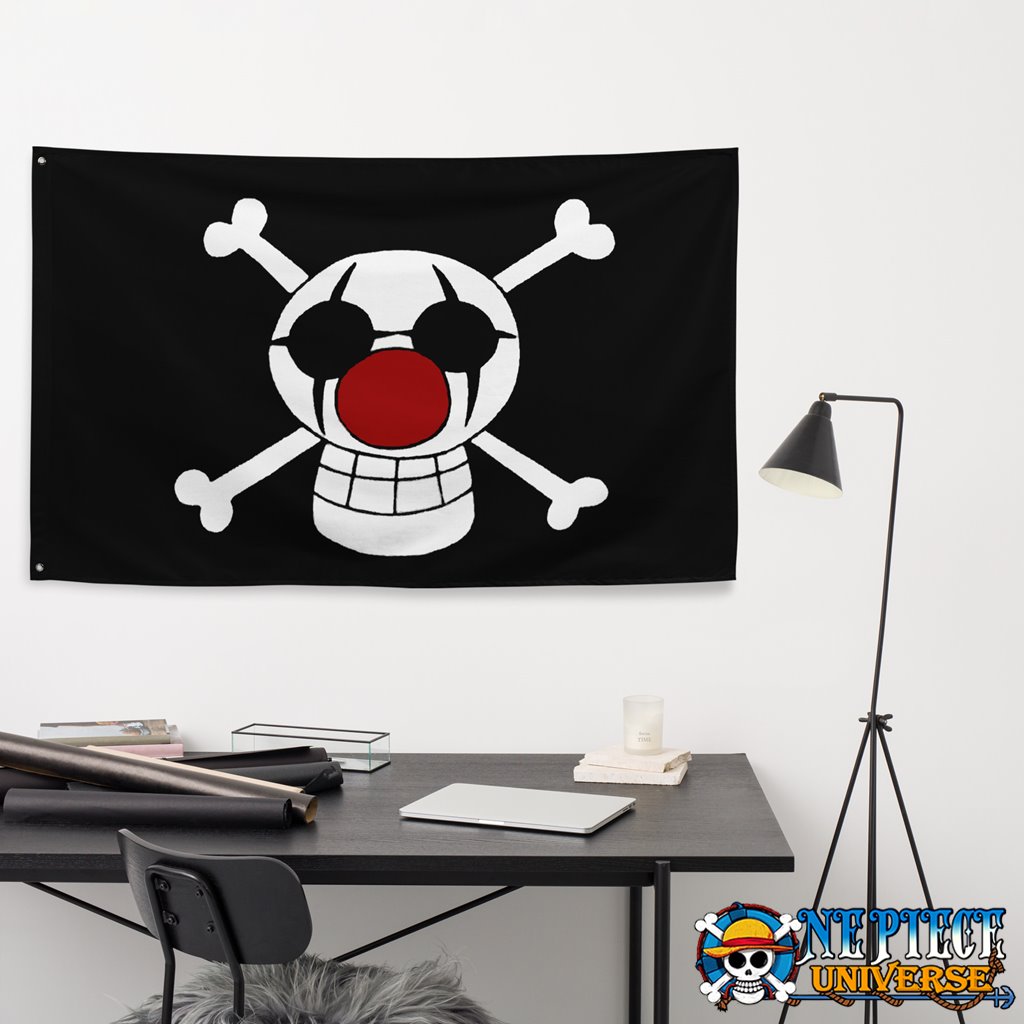 One Piece Buggy flag Jolly Roger description:
The iconic Buggy Jolly Roger, a symbol of mischief and adventure on the high seas! Embrace the spirit of the infamous Buggy Pirates and join their quest to uncover the legendary treasure of Captain John.
This flag, featuring their distinctive Jolly Roger, captures the essence of their daring exploits. With its bold design and vibrant colors, it's a must-have for any aspiring pirate.
Own this flag and become a true member of the Buggy Pirates, ready to set sail and chase the fabled treasure alongside. Let the journey begin!
The Buggy Pirate flag at the One Piece Universe online store comes in a variety of custom sizes and can be printed on either 1-sided or 2-sided.
>> See more: One Piece Pirate flag